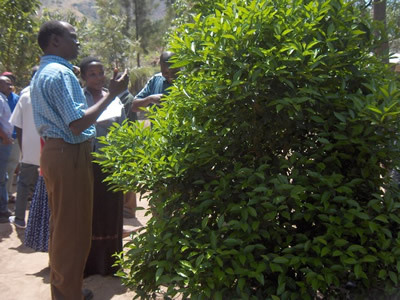 The initiative is part of efforts to clamp down on counterfeit farm inputs that are currently high on the market. It will also help to assure farmers of genuine products and inputs that are guaranteed to give them high yields.
Roll out Speaking to the press during the second Biennial Naro Scientific Conference, Dr Ambrose Agona, acting director general, revealed that the use of high-tech tracking systems will help Naro to build farmers' confidence in quality seed and track fake farm inputs.
The system will generate a stamp of authenticity on all Naro outputs, which will be made available to farmers through the single-spine agricultural extension system to be rolled-out by government.
"Uganda is second in Africa in terms of counterfeit seeds; and I am not proud of that. Therefore, there should be measures to check that and we believe this strategy will help. For the varieties that have been produced by Naro, we are going to introduce finger printing to easily differentiate them from fake ones," said Dr Agona.
Demand driven
He added that Naro is scaling up efforts to increase its engagement with farmers and end-users of its products and therefore the creation of the tracking system is a result of demand-driven research.
The conference, which was held from 3-7 November 2014, attracted over 450 delegates from various parts of the world. According to the crop detection department in ministry of Agriculture, fake inputs are mainly expired seeds, seeds with forged labels, adulterated chemicals, and seeds mixed with food colour.
Counterfeiting in maize seeds, especially hybrid varieties is also high. The UN Food and Agricultural Organisation notes that in 2012, Uganda lost Shs13.8b in fake agro-inputs. However, the problem of counterfeiting is a global challenge.
The theme for the conference was "Connecting agricultural research to society" and indeed Naro plans to implement several initiatives to achieve this linkage.
Dr Imelda Kashaija, Naro's deputy director general for Technology Promotion and Innovation Support, said the agricultural research body will establish technology incubation centres to transit its research results into viable business ventures in which many Ugandans can be involved.
Farmers' radio
Naro will also work closely with the private sector to attract investment in agricultural research outputs. Recognising the need for Naro to strongly engage users of its products, Dr Kashaija noted: "We are also going to establish a farmers' radio which researchers and farmers can optimise as a platform for increased engagement and for sharing feedback on various issues."